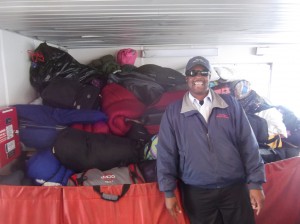 Catalina Classic Cruises
BAGGAGE GUIDELINES
BAGGAGE
Each passenger is allowed two pieces of personal baggage that can be safely handled by one person, not to
exceed 70 pounds each. One standard stroller per infant/child will be allowed free of charge. Coolers up
to 120 quarts, no larger than 36" in length and under 70lbs in weight will be accommodated and counts as
a piece of baggage. All passengers need to be able to carry all of their luggage in one trip to the boat.
Passengers will not be allowed to disembark the boat once they have boarded.
BAGGAGE DOLLIES/CARTS
Two-wheel dollies, wagons, and 4-wheel dollies for the purpose of carrying baggage will not be permitted.
BAGGAGE - PROHIBITED ARTICLES
Acids, batteries, boxes (except those containing apparel), camp stoves and lanterns (containing fuel), fuel,
construction materials, cots, dangerous articles, explosives, firewood, food-stuffs, furniture, gambling devices,
gasoline, glassware, guns, household articles, flammable material, internal combustion engines of any kind,
kerosene, lumber, meats, merchandise, motorcycles, extraordinary value, produce,
televisions (except portable), tires, motor powered vehicles, typewriters (except portable), and wire.
DANGEROUS COMMODITIES
U.S. Coast Guard prohibits the carrying of dangerous commodities, drugs or weapons on passenger vessels. Fuel,
firewood, charcoals, batteries, outboard motors, flammables (i.e.: white gas, liquid fueled camp stoves and lanterns),
combustible material or offensive items are prohibited. Factory tested items are not allowed on board at anytime,
i.e.: generators and motors.